Our Beginning
City Hill's first entity, City Hill Ventures, was founded in December 2010 by former Halozyme Therapeutics CEO Jonathan Lim. After the close of our first fund ("Fund I") in 2011, Dr. Lim directed seed and early stage investments in private life sciences and healthcare technology enterprises, with aggregate investments ranging from $100,000 to $5 million.
Our Inspiration
City Hill Ventures was named for Matthew 5:14, one of the Bible verses in the New Testament's Gospel of Matthew.
You are the light of the world.
A city set on a hill cannot be hidden.
These words echo the transformative, society-focused mission of City Hill's family of entities and the initiatives we have chosen to support throughout the years.
Our Funds
Fund I launched in 2011 with less than $10 million. City Hill Ventures actively invested in 9 companies. Within seven years – fueled by Roche's merger with Ignyta and Allergan's acquisition of Bonti – Fund I achieved an investment multiple (Distribution to Paid-In capital, or DPI) of 11. This placed Fund I among the top performing venture funds in the health care industry and led to the launch of City Hill Ventures' second fund ("Fund II") in 2018. Fund II is an evergreen fund with a broader mandate to catalyze global change.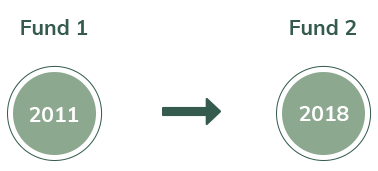 Our Bold Mission
Since the very beginning, City Hill has had a vision to have a positive societal impact based on our inspiration and core values. We took a tangible step forward in this regard with the 2011 launch of City Hill Foundation, a private foundation that supports mission-driven non-profit organizations. In late 2018, we launched City Hill Arts, which commenced operations in August 2019 and is dedicated to inspiring family entertainment with impact.
Collectively, City Hill's family of entities – City Hill Ventures, City Hill Foundation and City Hill Arts – work together across the for-profit and non-profit spectrum in service of our bold mission.
* Achieved by Halozyme and Ignyta